Collaboration is key.
We believe that when businesses work together, they can achieve amazing things. Together, we have that power; the power to change the status quo; the power to create a better future for your business, your employees and your customers. Change rarely happens in isolation, but when businesses work together, anything is possible. Just image what we could do together.
Learn more about strategy
Affect real change.
We create leads, stimulate investment and mobilise customers. We do this through brand creation, marketing campaigns and digital strategies for businesses across a range of sectors – from automotive and sport, to professional services and manufacturing. We have no agenda to sell you a specific service or channel and we do not pitch for work – our Insight workshop enables us to advise owners and decision makers to affect real change.
See our projects
Trust in us as people.
Simply, we're an integrated marketing agency based in West Yorkshire. But we're also advisers, consultants and confidants. We're a team of about 25 dedicated people with expertise in a range of marketing disciplines. It's our job to make your job easier and to challenge you when necessary. We help you make bold decisions and work hard to make sure results mean something to your business. Integrated marketing campaigns are simply part of the service.
View all services
Andrew Hobson
Managing Director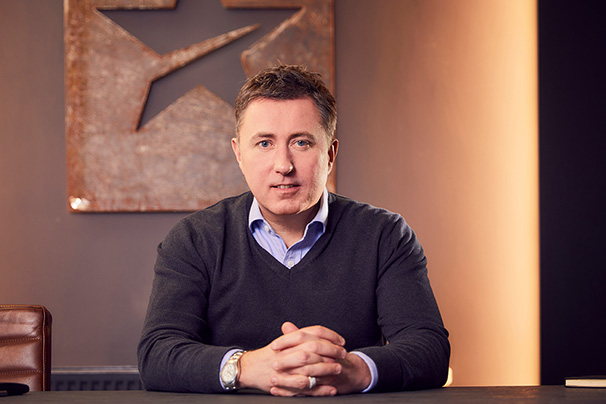 Brand management runs through his veins.
Andrew began his career with Tarmac Facilities Management in London looking after such brands as the arrows F1 Racing Team and the national food chain prêt a manger. As a design manager he was responsible for the successful implementation and fulfilment of all marketing and design strategies while helping to establish new brands within the market place.
In 1993 Andrew was invited to join TSA (now SFX) to assist, develop and manage existing accounts predominantly within the sports industry. Working directly within the football division Andrew worked with such brands as David Beckham, Michael Owen and Alan Shearer, working with all aspects of personality management. Still with TSA Andrews previous experience within facilities promotions led him to be assigned to Sampdoria Football Club in Genoa to begin working on increasing revenue streams within the stadium. During his time in Italy Andrew gained valuable experience of the international commercialism within sport and was asked to join Bolton Wanderers helping manage the building of the £38m Reebok Stadium. Andrew was responsible for pulling together the build and launch of the stadium for opening on the 1st September 1997.
Now the founder and owner of Fantastic Media, he has a team of over 25 highly skilled media people trained to understand what your business needs, and how best to take it forward. Clients enjoy working with Fantastic because our team enjoys working for Fantastic. They have all been selected because of their positive, practical and creative approach to delivering results.