Stay Connected.
Social media is a whole new world of digital communication. It is an extension of your brand and your business, and a way of delivering your brand's personality, values and content to a community of customers, clients and prospects.
It is also one of the fastest growing platforms for digital spending, allowing businesses to target content and adverts directly to their audience.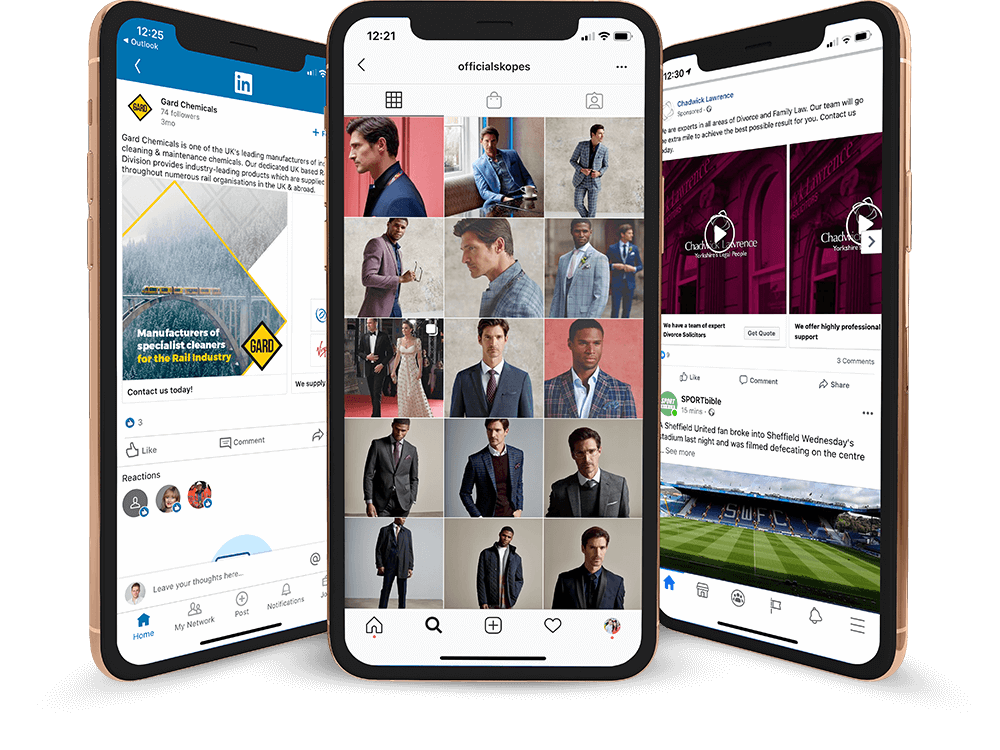 Why you need social media
Whether you operate in a B2B or B2C market, if your social presence is clear from the start your brand and business will benefit from additional customer touch points.
With the numerous platforms available, we assist in selecting the right social platform to achieve your business objectives and develop a strategy to ensure your brand is reaching exactly who you want it to reach.
It's not about having a presence on all social media channels, all at the same time. It's about having the right presence on the right channels at the right time, whether that's Facebook, Twitter, Instagram or Pinterest. We strategise, plan and create in line with your brand guidelines and deliver a return on investment on both organic content production and paid social advertising. How we do it
Social Media media management is all about developing and maintaining a relationship with your audience. To do this, you must create consistent engaging and entertaining content to your audience. It's about making conversation, not just being a part of it.
Social content production includes day to day content to provide a constant flow of information to your audience. Your social content has the ability to attract new customers and increase brand loyalty of the audience you already have.
We make your content stand out on your audience's news feed, and provide them with a solution to their problems. We create two way engagement and discussion, relevant and timely while still sticking to an appropriate tone of voice.
Paid social media is all about strategy. It's about knowing what your end goal is, knowing what actions are most valuable to your brand, and then delivering adverts designed to provide a return on this.
We run advertising campaigns across all major social networks, including Facebook, Twitter, Instagram, LinkedIn, Pinterest and Youtube. We help your business develop strong creative and manage the advertising campaigns from start to finish, optimising to deliver solid results.
We help you build a social media strategy that works for your goals, whether you're wanting to increase the number of likes or followers you have on a particular platform, elevate your content in front of a new audience or wanting to drive a set number of sales per month.
Whether you're looking to target a brand new audience, your existing customers, or a combination of the two, we have a strategy that can work for your business.
More than half of Facebook users visit the social media platform every day. Due to the nature of the platform, it's popularity, and the data it collects about users, using this platform to target detailed audience can offer a great return on investment for both B2B and B2C businesses.
Using our knowledge of the platform and it's advertising capabilities, combined with an understanding of your business goals and objectives, we can ensure your adverts are delivered directly into your target audience's news feed and advertising networks connected to the social media platform.
No matter your advertising strategy, we can provide a tailored approach to reach your business goals, using a combination of the following: Advert Creative Creation, Sponsored Content, Audience Building, Traffic Adverts, Video Adverts, Conversion and Lead Generation, Retargeting, Facebook Shopping
Twitter has close to 313 million monthly active users.
Targeting your audience on Twitter can be as simple as driving adverts to users who tweet about keywords associated with your brand. We can also use the platform to match your adverts with users with specific interests, follow certain accounts, or use designated hashtags.
No matter your advertising strategy, we can provide a tailored approach to reach your business goals.
Instagram, a Facebook owned platform, is a great way of visually telling the story of your brand directly to highly relevant audiences. The social media network uses the Facebook advertising platform, and has many of the same targeting capabilities and a diverse range of advertising formats available for brands.
On average, 75% of people take action after being inspired by a single post. With more than 500 million people using the platform, it is the perfect place to gain exposure for your business and show off your products in a visually appealing way.
No matter your advertising strategy, we can provide a tailored approach to reach your business goals, using a combination of the following – Advert creation, Website traffic, Application installs, Video Views, Website Conversion, Instagram Shopping, and Retargeting campaigns.
No matter your strategy, we can provide a tailored approach to reach your business goals
A social media platform designed for business, LinkedIn is the perfect platform to direct highly targeted adverts to a professional audience. Over 3 million businesses are active on Linkedin, with each of their employees holding their own personal account on the platform.
Adverts can appear on Linked In in a number of placements – profile pages, user's news feeds, messaging inboxes, search results, group pages and more. We can target key decision makers
Linked In advertising isn't going to work for every business, which is why before beginning any campaigns we run a full analysis of your existing profile, business goals and industry to determine if this is the right platform for you.
Want to see better results from
your marketing?